The Long Drive: Doornkop back to the Start – Johannesberg (Day 9)
We must end our journey to begin a new one, or else how will be appreciate them!
It's time to leave and head back to where I began nine days ago!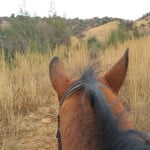 I have rested here at Doornkop with my folks and some friends for a day. Went horse riding and even tried my hand at some fly fishing – check me out! (As a side note, I had one bite, caught the grass a few times flinging the line back and forth and got cold!) It was enjoyable though!
Spending time with your family is really precious as you get older. You move away, find your feet and when you return you appreciate how amazing these people are who seem to care for you for a short while then hand you over to the world. With them crossing every finger, toe and holding onto a rabbit's foot that the skills they taught you were the best you needed to survive.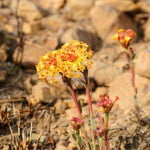 There is of course the downside to this too. They are no longer impervious to the march of time. They no longer seem to be resistant to ageing. When you grow up they seem like they will always live forever, and yet, with the experience of time and wealth of knowledge it becomes all too clear that they are passing through just as you and I are. Only difference is they elected to share their knowledge with others and live on through me.
Still, doesn't mean you can't get a bit frustrated and remember all the rather awkward days you had growing up though, hey!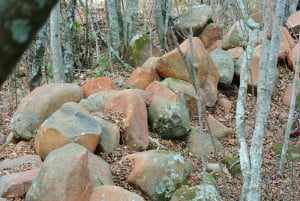 At Doornkop, open only to guests, there are ancient terraces too. The peoples that have inhabited this area have left their mark and with the fire that has burnt some of the vegetation the terraces are clear to see. Hundreds of years old. You can read more about them here.
I left my parents to drive home and I took a detour on the way back. I had heard of a Buddhist Monastery in South Africa near to Pretoria and thought I would visit as South Africa has a general belief in Christianity and Buddhism is really the outsider here. Even down to the Dali Lama being refused entry to South Africa as some kind of political statement to China and their influence here. (Enough of the rant!)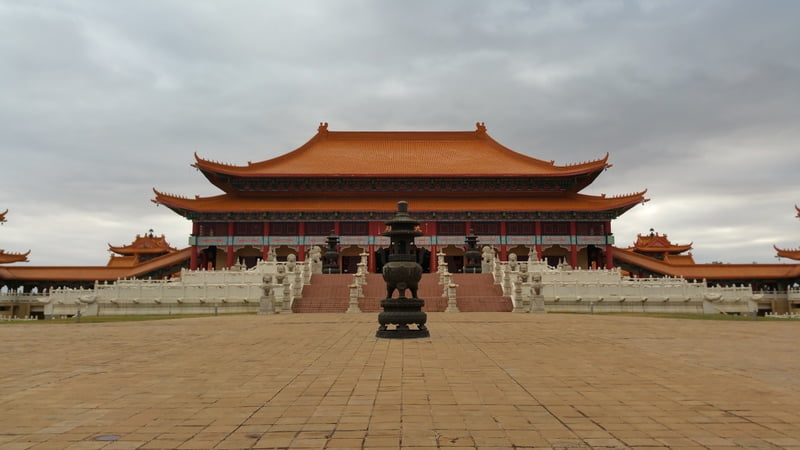 At Bronkhoostspruit I turned off the motorway and headed for Nan Hua Temple. I was not sure what to expect here as you can only see a small part of it from the road, but I was thoroughly surprised to see the sprawling temple as I drove up to it.
I walked around the first temple amazed at the architecture and the sparse furnishings; the huge dining hall and the little museum with interesting pictures and deep stories to make you think about this life.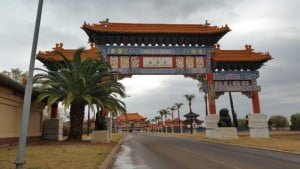 I crossed the road and walked across to the main temple and looked around. It was huge and the building magnificent. There are three great statues in the main temple after you climb the huge stairway. The courtyard felt peaceful and empty yet surrounded by walkways you were enclosed and shut off from the world outside.
I saw a few nuns and said my hellos to the security guards watching over the place. The candles and incense burned in the corners and in front of the statues and the sign said "No Photography".
After walking around and enjoying the architecture it was time to head home. I got back on the motorway and it wasn't long before I hit the queues of traffic and the mad dash of home time rush hour. Sitting in the car and looking around at the folks beside me I could only be so grateful for what I had experienced over the past few days. To be able to see the world around me and enjoy it.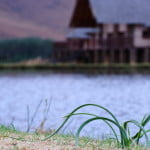 If you can take anything away from these posts I hope it is that you look around you and enjoy the amazing world you can see. Soak up the sunsets and look forward to the sunrises. Find the tiny hidden flowers and look up at
the huge mountains. Above all, live and act anyway, for this world is for everyone!
What to get in touch, share the article or just give a thumbs up, find the links below or email me from the contact page.
(Today's journey a mere 317kms bringing the total journey to 3534kms)