Be organised and your creativity can flow freely.
I have often told friends and family about Evernote and then tried to explain how you can best use it for your own personal life. So I have made tutorials to help point them and perhaps you in the right direction.
Why Evernote?
Firstly I should start by explaining what Evernote is before I tell you why I chose it. Evernote is a web based program that is accessible through mobile, tablet and computer. In the words of Evernote:
…Evernote is the place you write free from distraction, collect information, find what you need…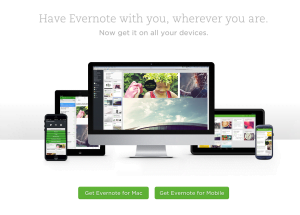 Simply put, it is an online storage/filing cabinet that you can store pretty much everything in. A digital brain if you will. Our online lives are so busy with clutter that we need to store items in a place that is easily retrievable and Evernote offers that solution very well.
I began using Evernote to keep important documents to hand for all the form filing I had and have to do. One company needs one type of document, entering a country needs a different proof and registering needs yet another form of identity that I eventually grew tired of it all and began putting important items within Evernote.
This grew and grew to where I hold most of my information in it today. From draft blog posts and thoughtful ideas, to using it for photo sharing and bill histories. I even use it as a dictaphone when I cannot write ideas down at the time or where the ideas come thick and fast and I need to capture them all at once.
It's Portable?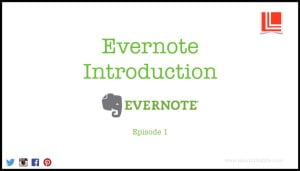 To begin with I just started using it as a todo list and putting the occasional important document in it. Today I scan my bills and record information in it so I have digital items available for me wherever I am in the world – because lets not forget – It's Portable.
It also means I am pretty much paperless. Anything I get is scanned and stored in Evernote right away and the paper is shredded. Why should I have massive files of paper that I will never look at because I am always on the go!
Whether I am checking in for a flight and need my booking number or following up a bill that I have been sent, I can do all this through Evernote. It even has the ability to remind you of important dates in the future and you can link that information together to help you.
It's Shareable
Evernote have made sharing your information easy too. Although it is always private until you do so, sharing a note or document with someone will increase your productivity or just help out a family member with a recipe. I often share recipes with my mother and have her share her old ones with me, and yet they are all stored in one place we can access.
There is also something call "Work Chat", essentially a chat service where you can chat directly with others regardless of whether they have Evernote or not and be able to work together on something.
How can You Use Evernote?
For many things! Simply really. The power of Evernote lies in its search feature. Whatever you put into evernote (I mean whatever, like documents, photos, text, etc) it all becomes searchable. The first time Evernote finds a picture with a word in it and returns it back to you as a search query will really impress you, I guarantee it.
I have seen people use Evernote just for the shopping list, the password holder and the odd document. I have also seen how it can be used to store all your receipts in a folder so you can give them directly to your accountant or your department. It is great if you are a student and you need to gather research for the next dissertation. It is just so flexible to what ever kind of person you are too.
How do you organise it?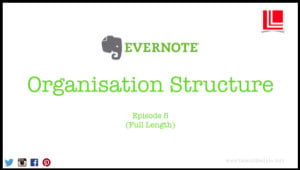 The is what makes Evernote different from the others! It is personal to you. You like structure and want your notes and documents in folders No problem – those are notebooks – Easy! Want even finer detail, tag all your notes and find them quickly again.
Perhaps you just like to throw everything into one place and search for it later. Again not a problem and Evernote will find it for you.
Many people have written posts about how they structure Evernote, my suggestion, begin getting notes in Evernote first, then go with what feels comfortable to you. Look at what others are doing but try not to copy too much or else your system will fall apart!
How do I Start Using Evernote?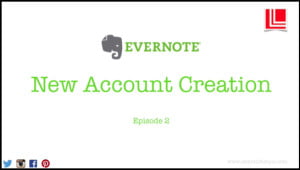 First you need to sign up for an account. If you are on a computer head on over to Evernote.com and sign up on Evernote Web. There you will see the web version of Evernote and can begin writing your notes straight away. Oh and its Free – Of course it is free with limited features but you want to try it right. so try it free first!
I would suggest getting about 20 notes in Evernote to begin with before you even worry about organising it. You'll see what stuff you are putting in there and have a better idea of how to organise it. Once you have have tried it out, you can download the app and put that on your computer to access your information a little smoother.
Evernote on a Mobile / Tablet
If you are on a phone or tablet, then you can even download the app and sign up right through the app. The app makes things easier to see and search to. Looking for the links, click here and scroll to the bottom right – find your platform and download away!
You can also save your notes so they are offline. Even when you are no longer connected to the internet or just want to work on something in the plane, it will be saved and stored until your next connection where Evernote will sync and store all you new work.
Evernote Web Clipper
By far the most valuable part in researching or saving items is collecting ideas as you research. Evernote has a great function to add an extension to your browser on either the computer, tablet or mobile so you can save web pages or book marks or just articles into Evernote to use later.
Perhaps it an article on how to make something or help on your thesis. Either way, being able to store this information to use and retrieve later is useful. Evernote even save the address you clipped the information from so you can return to the article should you need to.
Evernote and Email
Should you want to use Evernote for your Email storage, then you can even setup a forwarding email address so you get your email into Evernote and can file it all together with your bills and receipts so you have everything in the one place.
Email can even be merged with other notes you have so you can see all your notes in one place. Perhaps you have an electricity bill you are sorting out – you have an email from the company, a receipt from a payment you made and your own telephone conversation notes. You can merge it all together so you can see a clear overview of what is going on.
Maybe you signed up for a new account and you have the email to send straight to Evernote so you can store the details for later on.
What Now?
To find out more about getting started you can watch some of my videos here. There will be more uploaded as I find out what people are interested in learning and develop this a little further. Feel free to make contact with me regarding a query over Evernote or the videos by following the links below or using the contact page.