Being organised makes Being – Valuable!

Evernote is the note, data and photo storage program I use and I cannot tell enough people about how useful it is to me. Here are some tutorials to make getting to grips with Evernote that bit easier.
Choose a Video:
| | | |
| --- | --- | --- |
| 1. Evernote Introduction | 2. New Account Creation | 3. Terminology |
| 4. Adding Notes |  5. Organising Structures | |
Evernote can be used for many things, here is a short list in case you weren't aware!
Note Taking
Studying
Photo Storage
Presentations
Document storage
Dictaphone
Collaborations
Password Encryption Storage
Team Working
List Making
Research Store
Blog Post writer
Email holder
Conversation holder
Business Card Keeper
Hand Writing program
Recipe Book
Flight details
Hotel bookings
… to name but a few!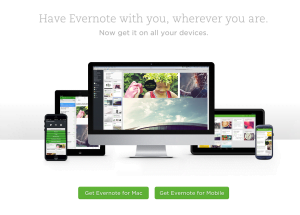 Evernote starts with a Basic FREE plan and I would encourage anyone to at least try this program for at least 2 weeks. You can make it whatever you want it to be and it is portable from your mobile through to your PC. Access all your digital content anywhere you are in the world. Save notes offline and they upload when you are connected again!
If you have suggestions, questions or tips, please let me know and I'll try to answer your questions or endeavour to find a solution.
So for a solution to storing your passwords, saving photos, making notes, sharing and collaboration or just using it as a shopping list, why not try Evernote.