A Long Drive: Knysna to East London (Day 5)
Waking to the sea, driving past wind farms and arriving at an Estuary Harbour.
The sound of the sea evokes all kinds of emotions in me. The rush of the waves, the ebb and flow of the low rumble always moves me. It seems to connect with some deep down feeling of calm that all people feel when they are near to the sea. Today I headed for East London, on the East coast of South Africa.
I was up before light this morning, a bit like a child in a candy store, ready to go to the seaside and put my toes in the sand. Camera to the ready, and some warm clothes I headed out just as the first break of dawn was lighting up the sky.
Walking down the long wooden walkway I kept looking at the beach that stretched off to the distance, with a hint of sea mist lingering from the cool night. The waves were coming into shore at a calm steady rate and as I touch the sand with my feet I took of my shoes to feel it. I made it!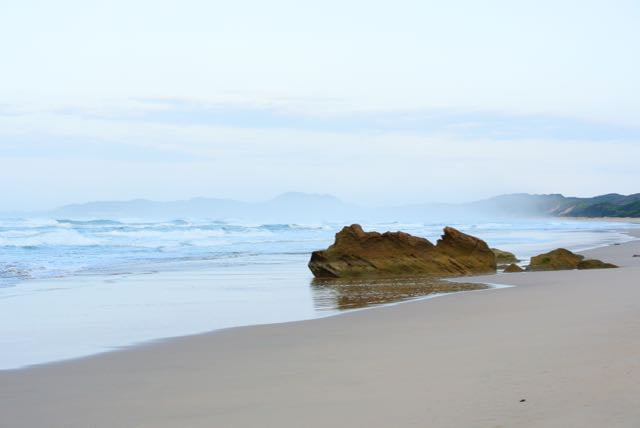 This part of the shore is rather boisterous. There are lots of rocks, worn away from the seas relentless pounding and the under currents swirl about like a boiling pot – and today is a calm day!
The light is slowing brightening up the sky and the only other person I have seen was a jogger who has already disappeared into the distant sea mist. It feels amazing here. I have this whole spectacle to myself and I am relishing the moment with great joy.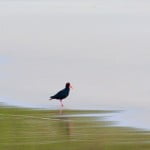 I look at the sea life and bird life that is hard at work to get their food before its too bright. Seagulls flying around and chatting to one another in strained voices about how their night wasn't as comfortable as the night before (I imagine!) There is also an African Black Oystercatcher and his mate walking around investigating for signs of a good meal. The tide is on the way out and just perhaps there is something that may be caught off guard with the receding sea for the Oystercatcher to have.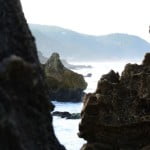 The small island that is slowly being cut off from the sea needs to be investigated and I walk across to it and climb on it. Inside I feel like I am in a boat as the sea swishes around me and the odd wave breaks causing a cascade of foam to fly up in the air. Now I really do feel like a child all over again!
Before long the sun is rising and the beach is drenched in the warm golden glow, turning the tops of the waves bright white as the approach the beach. The colours all come alive and make this setting even more magical. Brenton-on-Sea truly is a beautiful place to come too.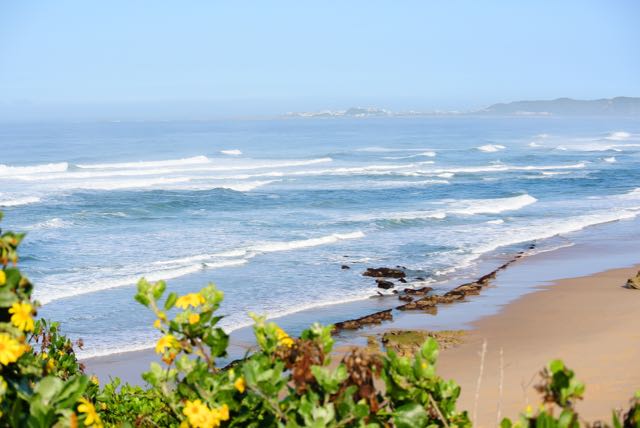 However, all this looking and wandering about has me lost in my own world. I glance at my watch and notice that I have been here for 3 hours already and I need to check out soon, so I wander reluctantly off to the cottage I stayed in for the night.
After packing my things away and smartening up a little I pack the car and talk to the gardener for a while. We talk about the value of life and that the beauty in it is to enjoy the moment you are in. Just like this morning at the sea, such a simple pleasure and yet so enjoyable. After we bid our farewells I headed to the office to drop off the key and we are off.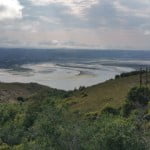 Today's drive was 578kms so there were not as many stops as I had hoped. Of course I kept stopping for photos here and there, but nearly as much as previously. I had barely left Brenton-on-Sea before taking a picture of the Knysna Estuary below.
I stopped at a campsite that sat on another estuary and just before leaving ended up speaking to the guard on duty. He was most interested on where I had come from and more importantly he was interested in preaching to me. I tried to talk to him about different ideas about life but each time I presented him with a question he would answer it with two words then stand back and say, "I have answered that, something else?" No discussion was necessary on his behalf, but when I was about to leave he told me he was very happy to have met me.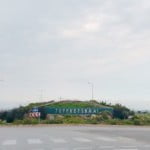 Not long after this it began to rain again, and rained for much of the way to East London. I stopped for a brief lunch break at Jeffery's Bay, the famous surfing capital of South Africa, and watched a few cold surfers "hang ten" off their boards. The impression I had of Jeffery's Bay was vastly different to the one I experienced though. Perhaps the rain had a negative effect but I felt a little sorry for the people living here. A sense of hopelessness really seemed to grip the feel of the town.

I continued past deep gorges and big mountains and lovely lush green vegetation. I even passed a huge wind farm that has the main road going right through it. I hadn't realised South Africa was investing so much in wind energy but by the size of the farm it certainly was a sizeable investment.
I arrived in East London not long after dark and for a B&B for the night called Byways B&B. The owner, Cheryl, was very accommodating and gave me a marvellous on suite room. After settling in I went for a bite to eat and then straight to bed.
Today I woke to the sound of the sea and I am lucky to be by the sea again tonight, albeit in a city. There was a lot of driving today but I managed to see the landscape change again as I get closer to Kwa-Zulu Natal. Tomorrow I am looking forward to seeing East London's harbour as it is the only functioning Estuary harbour in South Africa.
What to get in touch, share the article or just give a thumbs up, find the links below or email me from the contact page.