A Long Drive: Kimberley to Karoo (Day 3)
To see the morning rise and enjoy the evening pass is to experience the day in full!
What an amazing place to be! Thomas's Place is certainly worth the stay, even if it is not far from the road, the air is crisp, the sky clear and I could hear the sheep having a little chat amongst themselves in the morning.
After a cup of coffee and a little wander around I set off for the Karoo National Park. This shouldn't have taken too long (only 409kms today!), but as usual Africa has something about it. It grips you, holds you and wants you to see more. I would drive for a short while and then have to stop to take a picture of the ever increasing skyline, the flat topped mountains and the flowers of so many colours they grip you in awe just to look at them.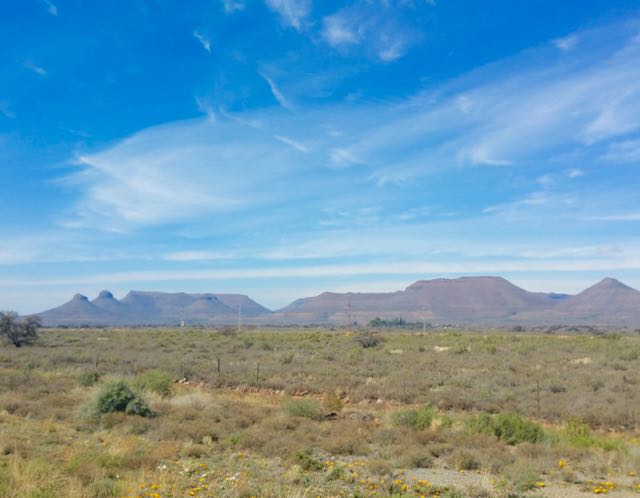 I stopped in one spot just to take a landscape photo, and as I turned I saw one flower, then another, then another, time just passed by. It's peaceful here too. The temperate is a cool 24°C today in the morning and it is winter at the moment! So it is lovely!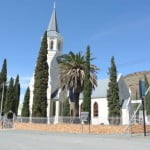 As I pass each town I dive off the road to look at the people and the buildings that inhabit these places. Each place has its own feel and architecture and as always there is a church sitting in the middle of the town. Normally very well kept and shining like a beacon for all to see.
I pass places where people walking with little more than the shirts on their backs are smiling and waving and where folks in the big fancy cars are stone faced and stressed. What a contrast of people we are in the world!
As I near the Karoo National Park the Nuweveld mountain range appears on my right. Its impressive and I cannot fit it all into one picture. Even a panorama cannot convey the length of this range. I stopped at various points to look at the tall peaks and massive rocks which have visibly fallen off. (and I am a few Kms away and can still see them!) I keep thinking that the noise of one of those pieces falling off must be incredible as it tumbles its way down the slopes, crushing everything in its wake, until it rests.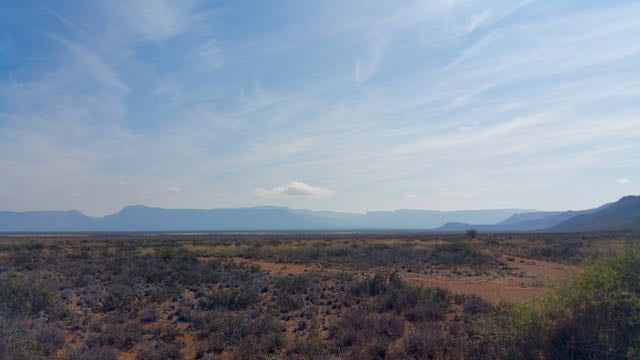 I pass through Beaufort West, a rather large town with plenty of activity, but not what I am here for and turn onto the N1 South to Cape Town. Just a few short kilometres later the sign for the Karoo National Park appears and I turn off.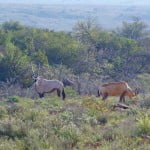 The entrance gate is just that, a stone and thatch gate which has one guard who informs me if I want to enter I need to proceed a mere 6km to the main reception in the park. Wow! There is only the road beyond this little entrance and it goes off over a small brow of a hill. There are no buildings ahead, just the mountains.
Of course after entering, I look around and admire the grandeur of the mountains. That's why I came here. I pass Gemsbok and Zebra on my way and arrive at the fenced area. Here the people are fenced in and the animals are free. I always think that when I arrive in a national park. The gate opens and in I proceed.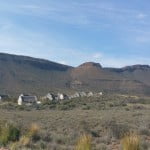 I am helped on my way at reception and given a road map which is explained to me that there are 4×4 routes and normal car routes. I have a car and do not expect to do any 4×4'ing today, but I can see from the map there are plenty of tracks and parts to the park that will keep you entertained for the whole day, or even possible week if you drive like me and keep stopping to admire the wildlife and surroundings.
The main route is 45kms long and I am told a 2.5hr run. I have 3.5 hours before I have to be back at the gate before closing and so I set off. The landscape swallows me whole as I drive up between the mountain range on a twisting turning road. At the top I can see the flat Karoo plains below and the area is beautiful and quiet. Gemsbok and hartebeest are all over the place.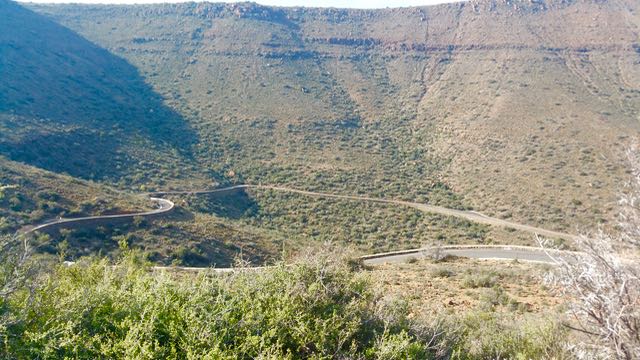 I see my first (and only) black eagle perched high up on a rock looking down over me. They have such a majestic nature about themselves. I see zebra and Eland (with their twisted straight horns) wandering along. This is not going to be a 2.5 hour run, there is too much to see!
Nearing the end I see, what I am told later everyone has been looking for, a white rhino. These are rare these days and I watch, transfixed, as I may be seeing one of the last few in the world. Time is ticking though and I need to get back to the rest camp before the gate shuts, and here there is a R1000.00 fine for being late. I think this is probably to make sure you actually return home to sleep rather than to impose a curfew. There is so much of interest here I would not have returned at all otherwise!
I made it with 11 mins to spare, visit reception again and say that this is just too beautiful and could I stay for the night. They have one Chalet left and we get checked in. I buy my wood for a fire and some borewors for the braai (bbq), and head off to my chalet.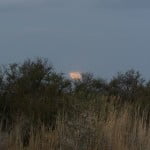 The Chalets are all well placed and give excellent views of the mountains. I drop my stuff off, head down to the bird hide to see if I can catch any remaining birds before bed and watch as the moon rises through the trees. The bright yellow weaver birds are all chattering away and getting ready for bed as I leave, flitting around their grass made homes hanging from the reeds.
The chalet is perfect and as I wait for the fire to get going so I can cook, I sit outside and listen to the quiet. Every now and again I can hear the hyena making their distinctive call, almost eerie in its tones as they call out to one another. Then all is quiet again and just the cracking fire can be heard.
Night time is here and with it a cool wind begins to blow through the park, the chalet is warm though and after dinner it is time for a good peaceful rest. What a day its been. My head will really need to process this all tonight!
Make a comment, give a thumbs up or just follow along, you'll find the links for social media below.