South Uist – Transport and Travel
South Uist is set in a vast ocean of water!  
There said it!  Although the mainland can be seen on clear days it is some distance in the North Atlantic.  So between South Uist and the Mainland is a body of water known as the Minch.  To get to the island of South Uist you need to take a little boat trip…
I say little, should you be travelling from Oban to Lochboisdale you will experience the delights of a Caledonian MacBrayne Ferry for 5 – 7 hours.  In winter, that could take a lot longer due to rough seas!  However, the delight of leaving Oban and travelling to South Uist by ferry is one that makes this journey so special.
South Uist is set in a vast ocean of water!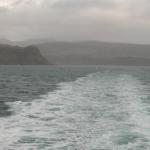 I should point out that there are 'three' other ferry journeys that one can make.  The shortest and most frequent service is the ferry from the port of Uig in Skye to the port of Lochmaddy in North Uist.  This is a mere 2 hours and your journey to Skye is exquisite with high mountains and lush green valleys that all end at the shore.  Upon arrival you will have about a 40 – 60 minute car journey to South Uist, which only makes it a scenic route to travel.
The next is to take the ferry from Oban to Castlebay on the island of Barra and then to drive to Ardmohr to cross on a little short ferry to another island called Eriskay.  This will allow you to then drive/cycle to South Uist across a relatively new causeway.  This is a particularly long journey and only for the harden traveller I think!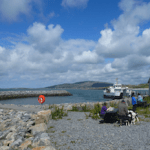 Finally there is a very long distance route that one can take should they be inclined to do a circuit of the isles.  Travelling from Ullapool to Stornaway on the island of Harris and the to travel down to the island of Lewis.  Then to catch a ferry from Leverburgh to Berneray, and finally to drive/cycle to South Uist.  This is a very interesting route and you will take in all the wonderful sights along the way.
The roads are good – but be forewarned they are single track in some places
For all those shouting in despair that there is a fourth route, well it is there in name and only in winter!  It is unreliable and is currently on a trial (bound to fail in my opinion) but runs none the less (if you want to take a chance on it) from Mallaig to Lochboisdale.  It has a train station linking you to Glasgow on the most enchanting railway line ever.  The ferry is only 3 hours through some beautiful waters and you arrive in South Uist ready to enjoy all that it has to offer.  However, be it on your own head if it doesn't run the day you book it!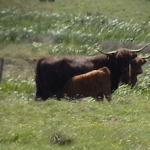 The other way you can make it apart from water is to fly!  There is an airport at Benbecula and a short drive down to South Uist.  Flying is flying and you will lose a little bit of the charm of travelling over land and sea. However, it will be rewarded in the tiny aeroplane and the views of West Coat Scotland on a clear day.
There is a bus service too that will take you about. A taxi service and if you are cycling – well even a backpackers that will sort out your repairs.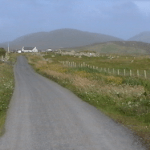 The roads are good – but be forewarned they are single track in some places and they are not all fast – even if the locals drive fast past you.  Take it easy, relax and if there is a passing place pull in to let others past.
Ferrys, trains, bicycles and cars all covered.  Great.  I will leave some links below should you require more direct contact if you are planning a trip.
The guide written by Deborah Penrith Skye & The Western Isles
 is worth taking with you.  The Lonely Planet guide is also a must to get the most from your trip too.
To read further post in the series, see below:
Life is for Living,  Keep Exploring!
Useful Links: