South Uist – History and Dwellings
An overview of South Uist History and it's dwellings
Herring, 8000 years of humanity and a few stone Cairns – Yup post 2 is about the History and Dwellings of South Uist.
It is difficult for me to think that such a small island flung to the edge of the British Isles has had inhabitants on it for over 8000 years.  Where did these people come from and what was it like back then.  Why would you go to all the effort of finding a small island on the West coast of Scotland and settle there.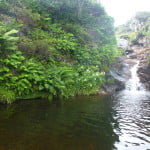 There are reports of possible wooden structure being built and there is plenty of evidence of stone houses in existence.  The inhabitants of South Uist have be catered for by this small piece of land for many years.  The port of Lochboisdale has seen herring fishing in its recent past and the interim before has witnessed the greed of distant land owners forcibly removing its ancient peoples from it for the mere prospect of sheep grazing in The Highland Clearances.  Something that is still in the mind of its current inhabitants.
If you are after history, there are plenty of spots that you can find remnants of its past and all out in the open to see.  Today there are people living amongst the ruins of their forefathers in modern detached houses, still farming the rich fertile lands.  A number of "croft" owners have begun to restore old houses with their 3 foot thick low granite walls and thatch roofs, held down with netting and stones, to stand up against the strong winds from the great North Atlantic.
When you arrive you are welcomed as a friend and when you leave you are leaving as family.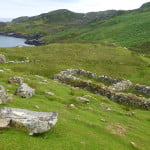 History is everywhere!  We all know that, but in this little corner you will find a story about each rock and dwelling, and with the associated family.  Those that were removed from the land and sent to Canada
, return on a yearly basis to see where their ancestors came from.
South Uist is rich in peat, a type of bog, centuries old that is still "cut" and dried and used in fire places and stoves today.  When you smell a peat fire wafting from the dwellings on your wanderings you are instantly drawn into a time that is far removed from our own modern existences.
Most of the islanders you meet are very polite and welcoming to their wonderful place of residence.  You will see people talking to one another – face to face!  The spirit of humanity is very much alive as you see family and friends meet for the occasional ceilidh and farming show.  This is a welcoming island and one I am very pleased to have explored.
You will see people talking to one another – face to face!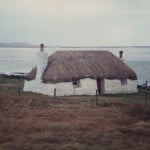 When you arrive you are welcomed as a friend and when you leave you are leaving as family.  South Uist truly is magnificent in its views and wildlife, but its people make it a place that will be in your memories to tell others.
As the series continues you can find the other posts here:
As always you can contact me and follow me through Twitter and Facebook or leave a comment below.
Life is for Living, Keep Exploring.
Maurice
There are many books I can recommend on reading further about the history of South Uist and the excavations that have been on going.
  Michael Parker Pearson "From Machair to Mountains: Archaeological Survey And Excavation in South Uist"
  Michael Parker Pearson – "Excavations at Cill Donnain: A Bronze Age Settlement and Iron Age Wheelhouse in South Uist"
  History of the Outer Hebrides: (Lewis, Harris, North and South Uist, Benbecula, and Barra)
Bill Lawson
 – Specialist Books & Genealogy Research Material for the Outer Hebrides
Links:
Kildonan Museum – The local museum show casing local life and it's history.
South Uist – Site offering History, accommodation and various links for the isles
Wikipedia – As ever useful for a brief overview and further links and books
Scottish Accommodation – History of South Uist and accommodation