South Uist – Birds and Wildlife
Amazing Migrating Birds and Majestic Wildlife
I have already been expressing the peace and tranquillity of South Uist, but one thing that Uist is famous for with Twitchers is it's bird life.  Yip, if you want to see a multitude of birds, all migrating through or stopping off for a relaxing break then this is the place for you.  
There are numerous ground nesting birds all over the island, but importantly there is a lot of work done through the SNH (Scottish Natural Heritage) that ensure this wildlife and bird life remains in good order.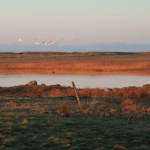 That said, the Islanders are nature lovers, and embrace what nature has given them on their door step.  You will see plenty of wildlife, and you may hear plenty of it too.  On my first visit to the island during a short walk in the dark evening light, I came across a bird with a most peculiar sound that I had to investigate further.  The sound is sort of eery and ghostly sound, made by the wings of this little bird.  Do you know what it is? (Answer below)
There is much to see and you could never be disappointed with the bird life here.  Make sure you have a good pair of binoculars and certainly don't dismiss what looks like an ordinary flat landscape of non-existant wildlife!  Stop, sit, relax and watch, and all will be revealed…  If you take a trip to the beach you may even be treated to a passing school of whales or see seals frolicking in the water.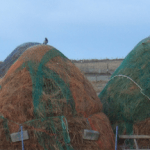 To look at a great website for recent sightings and to make contact with enthusiastic bird watchers why not click the Recent Sightings link.  You can also make contact with Steve Duffield who is interested in moths and butterflies – which put on an amazing show in summer time.  ([email protected])  For the RSPB office in Uist you will need to travel to North Uist or contact them by email or phone for more information.  Email Jamie Boyle at [email protected] or visit Western Isles Wildlife Contact Address: 7 Carinish, Isle of North Uist, Western Isles, HS6 5HL and the website can be found here.  The RSPB recently launched wildlife walks too, in the Western Isles and you can click here to find out more.
The SNH is also very helpful and can be contacted here.  Their number is (0044) 01870 620238.  They also have a great event planner for the island if you want to follow a more set plan.  Have a look at this brochure – Explore for a day.  You can always visit the Visit Outer Hebrides site for a host of activities to do including all that bird and wildlife.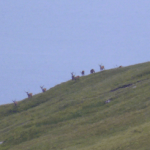 There are plenty of Stag on the Island and to see them rutting is quite something too.  They are beautiful when seen with the backdrop of the island behind them.
So there you have it, birds, animals and picturesque landscapes – What a place to visit!
This is the last in a series of posts about South Uist, should you want to read others click the links below:
There is a great DVD out narrated by Ewan McGregor called Hebrides – Islands on the Edge
.  It is beautiful and will really have you longing to visit!
Should you want to support the RSPB, they have a book for Scottish Birds called RSPB Handbook of Scottish Birds
Checklist for birds can be found here.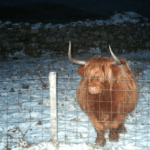 Answer
Oh the bird I heard – a Snipe.  Did you get it?
This should get everyone interested in going looking for a Snipe…
  The Snipe Hunter (Children's Book)
The Lonely Planet always has good guides to ensure your trip is great.  Perhaps you prefer this as a travelling companion.