South Uist – Walks and Views
Off to see beauty in landscape
One thing you can certainly say about South Uist is that it is prime walking country!  I have managed to do quite a bit of exploring here and I can say that this little island (in comparison to a large continent) has so many nooks and crannies that you just cannot get around them all.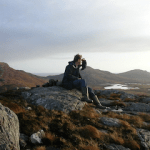 The coast line is diverse from the soft sand shores on the west and the jagged rock of the East.  The views of Beinn Mhor (pronounced Ben More) standing proud among the hills and lochs, with it's grand views over the islands is a mere 620m tall, but stands as a giant here.  The sky is so large because of these relatively small mountains that you feel like you are almost one with heavens.
Make sure you get a map though as there are plenty of bogs to navigate around.  I normally use the Ordnance Survey Active Map – Benbecula and South Uist
 but you can buy the cheaper paper version of the Ordnance Survey Map – "Benbecula and South Uist"
.  There is another map, but it is not as detailed as I would like as it is a 1:50000 scale, but perhaps for quick navigating around the island it might come in useful is the Benbecula and South Uist (Landranger Maps)
.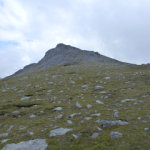 Beinn Mhor's small brother, Thacla (pronounced Hecla) holds some of the finest views the island keeps to itself.  The long walk in to this mountain allows you time to appreciate the flatness of the island as you slowly make your way up.  It's gradual and, as a jewel, so too does South Uist begin to shimmer in the light.  The tiny lochs of water dance with reflections and make for a show that rivals the best places on earth.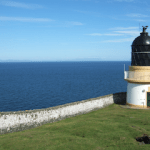 There is a walk out to a lighthouse perched on a cliff edge to the north of South Uist.  Here you can watch the birds below, diving for their food and nesting in the cliff edge.  On a sunny day this place is a view point that allows the traveller to see to the mainland and the nearest islands in full colour.
There are small vacant dwellings left all over the island to explore and to understand the history of this place.  A walk is never dull, and there is always something to find out or view. The island even holds a loch of 'heavy water'!  Now there is something to research.
This is part of a series of blog posts on South Uist.  You can find the others by clicking the links below:
If you have a chance to put your boots on in South Uist and go for a walk, then post me a picture if can.  I can be found on Twitter and Facebook or leave a comment below.
Life is for Living, Keep Exploring!
There are of course numerous books on walking in the highlands, but here is one worth checking out by Mike Townsend – "Walking on Uist and Barra (Cicerone Guide)"
.
The Lonely Planet always has good guides to ensure your trip is great.  Perhaps you prefer this as a travelling companion.