Kruger Park – South Africa (Pt 1)
A National Park to Rival the World – Kruger National Park
The Size of Wales or Israel, this really is a park dedicated to wildlife in South Africa and possibly the world. Why, would I give this so much praise, such a high accolade, you will have to continue reading…
First Light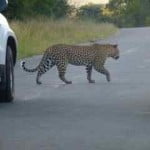 Waking up the first morning and leaving for a short "game drive" before breakfast I am greeted by all manner of birds warming up on branches and best of all a chance at spotting a shy Leopard walking across the road. First behind my car then in front, allowing me to just get a photograph after I realised that it would not be around for much longer, and no sooner had it made its appearance it walked off the road and disappeared into the underground in a few effortless paces. I can still remember the fresh smell of morning and the delight of seeing such a magnificent animal in the wild!
WILD is what the Kruger Park is ALL about. No cages or animal tamers wandering around. This is animal country, where the animals take priority and humans remain in their cages, the motor car. How you arrive here will no doubt make the journey better or worse, but the experience will be the same. Absolute awe! On return to camp that morning I was also fortunate to see a male Lion sitting on a rock near a dry river bed, the same one that had put on quite a show during the night with his roaring. What could be better than that?
Kruger Park is Part of the Great Limpopo Transfrontier Park – (35000sq Km)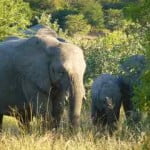 The Kruger park is part of a Transfrontier agreement between South Africa, Zimbabwe and Mozambique. The Tranfrontier is an agreement between the Kruger Park, Gonarezhou National Park in Zimbabwe, and the Limpopo National Park in Mozambique.  That makes quite a large area for animals to roam free. Along with all that space, private game reserves have also agreed to lower their fences to ensure even greater area for animals to roar free and for visitors to experience this amazing area in the Kruger National Park.
I am not sure I can fully convey the amazing feeling of being in the Kruger Park. It is a big big place, and there are animals that will keep your attention for ages here. Something for everyone. Everyone arrives here looking for the big animals and you won't come up short. You may not see them all in your first visit, but you will see them.
The Schedule
Now the normal events after arrival go something like this: wake up and get your coffee on, then stand and listen for any noises which may be nearby your chalet or tent in the designated rest camps. Then go for a drive that may allow a brief glimpse of a secretive animal or just the delight of a passing herd of Bok. Head back to camp for a lovely breakfast cooked at your chalet and get ready for your days outing. Remember to pack water and binoculars, oh and a camera of any shape or size to at least take a pic or two to send back to your loved ones. Trust me, even a picture of an Elephant will entice a friend or relative into your adventures in the "wild".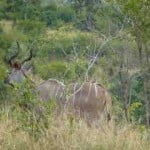 Head off for the second time of the day and begin to look. Now when I say look, this is not a nonchalant gaze across the bush veld, this is a keen eye trained on any shapes that may resemble an animal. You will be surprised at how an Elephant can walk a couple of steps into the bush and disappear. Blending perfectly well with its environment, or a Giraffe, eating from the tops of the branches can be passed without notice if you aren't observant.
Watering Holes
There are watering holes to visit, both for the animals and the visitor, and your full day out will make you ravenous for a lovely evening braai (bbq) while listening to the sounds of Africa all around you. Every now and again an animal may wander past the camp fence and show itself in the torch light or dim chalet lights around. Evenings normally end early because you just cannot wait for the next morning in the anticipation of what you may see on that first drive out.
Wonder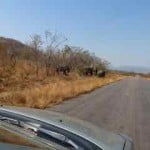 I won't kid you, driving around the park will give you some idea of the size of the park, seeing an Elephant near a car will put their size in perspective and looking at Hippos wallowing in the water will amaze you. In a follow up to this article I'll talk about the smaller animal life you can see once you get over the BIG FIVE effect but that's for later.  (For those that don't know what the BIG FIVE are they are African lion, African elephant, Cape buffalo, African leopard, and White/Black rhinoceros)
Rest Camps
For now, book into my favourite Berg-n-dal camp to the South of the Kruger Park, and ask for a chalet near the fence line if possible for an evening front row seat! You will not be disappointed! You can easily move from there to other camps on a day by day basis, and if you are camping it is easy to set up and take down with excellent facilities wherever you go.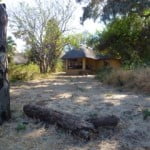 The Park has major Rest Camps with small shops and restaurants, mobile reception and a few luxuries like swimming pools and the like, but the Kruger Park has little secret hide aways too, where you only have power for a few hours a night and where you see a crystal clear night sky, and quiet surroundings. The peace is incredible and the feeling of being cut-off from the world is amazing. No mobiles or shops to interfere with your experience of "wild" Africa.
[Side note: I will admit it is not for everyone, these little quiet hideaways, as I found out with a friend I was with. It took just one night and one day for them to feel so isolated that they needed to get back to a mobile reception area and see a shop some hour and a half away! I have to admit, it was perfect for me, and driving back through a herd of Buffallo on the return with the setting sun was amazing.]
Take the Opportunity!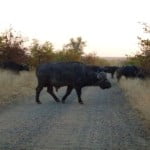 If you have the opportunity and you can set aside the time and money to make this adventure, take it – grab it!  I would suggest out of season to avoid clogged roads of visitors and the benefit of cheaper rates in the park camps, but whatever time you go – make the effort.
Part 2
Watch out for Part two coming later on, with expenses, what to take and looking for small and beautiful! As always thanks for joining me and if you enjoyed what you read give me a like over on Facebook and if you can give me tweet on Twitter. Maybe even leave a comment below with advice for others and stories of adventures you have had in the Kruger Park.
Life is for Living, Keep Exploring!
(For a map of the Kruger Park click here)